Spaghettis de courgettes sauce tomate – Zucchini spaghettis with tomato sauce
 Scroll down for English
Voilà longtemps que je résistais à l'envie irrésistible d'acheter un gadget de plus, et puis, un beau jour au détour d'un rayon chez Ross (une solderie) j'ai craqué: me voici l'heureuse propriétaire d'un
"spiralizer"
. Quézako me direz vous? C'est un espèce de taille crayon à courgettes, carottes et autres légumes plus ou moins cylindriques. Vous récupérez des "taillures" de légumes en forme de spaghetti.
Mari et enfant ont plébiscité mes spaghettis de courgette à la sauce tomate. Parfait pour faire manger des légumes à toute la famille!
 La recette est toute simple:
INGREDIENTS: Pour 3 personnes
9 courgettes (les petites des supermarchés , pas les grosses du jardin de votre grand-père!)
1 ou 2 CàS d'Huile d'olive
INSTRUCTIONS: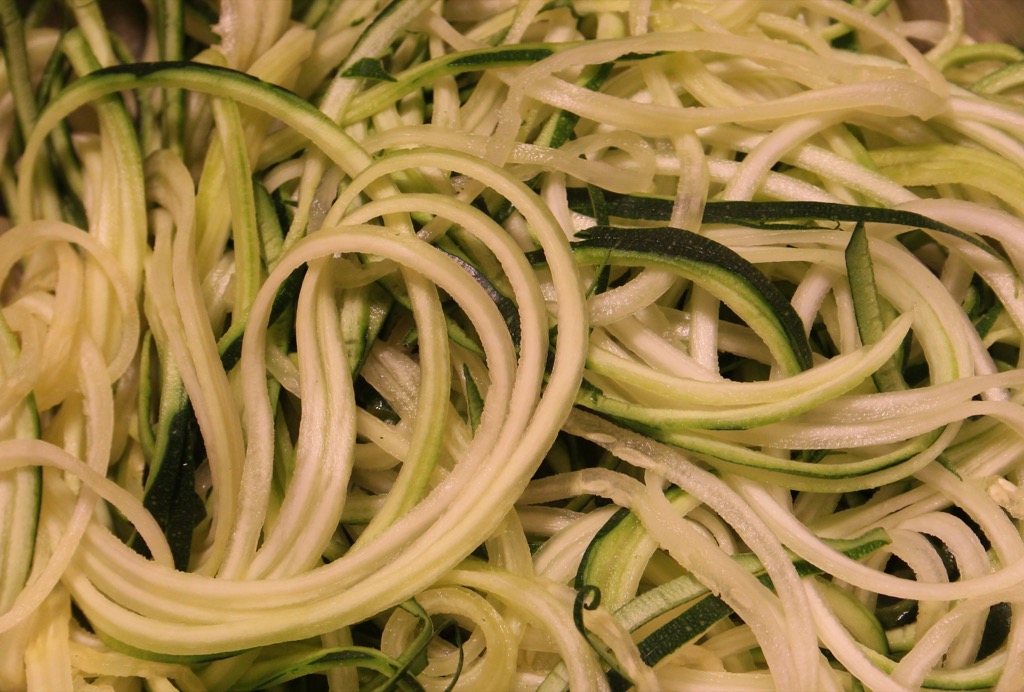 Lavez et éventuellement épluchez vos courgettes (si elles sont bio, vous pouvez garder la peau)
Taillez les courgettes en spaghetti grâce à votre petit outil magique.
Dans une sauteuse ou un wok, faites chauffez l'huile d'olive.
Ajoutez les spaghettis de courgette et faites les cuire 5-6min en remuant régulièrement. La durée de cuisson est à adapter en fonction de votre goût : "pâtes " al dente ou bien cuites….
Les courgettes rendent de l'eau, qu'il faudra peut être  égoutter en cours de cuisson.
Lorsque les spaghettis de courgettes sont cuits, servez-les avec la sauce tomate.
PS: si vous avez une grande famille, vous allez vite vous lasser de mon  "taille crayon" , il existe
d'autres outils
similaires mais qui permettent d'être plus efficace.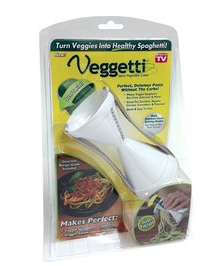 ---
For a while I had been resisting the urge to buy one more cooking gadget, and one day, while shopping at Ross, I couldn't help it any more and treated myself with a
"spiralizer".
You will ask me " What is this spiralizer thing?". Well, this looks like a pencil sharpener, only it is intended for vegetables. You use it with zucchinis, carrots, and similarly shaped vegetables, and it cuts the vegetables in spaghetti-like strands.
My husband and my son loved my zucchini spaghettis with tomato sauce. This is a perfect way to have the whole family eat their vegetables!
 The recipe is really easy:
INGREDIENTS: for 3 servings
9 zucchinis  (Little zucchinis from the supermarket, not the large ones from your grand-father's vegetable garden!)
1 or 2 Tbs of olive oil
DIRECTIONS:
Wash and peel your zucchinis (if the zucchinis are organic, you can keep the skin)
Cut the zucchinis in spaghetti-like strands using your magic tool.
Heat the olive oil in a large pan or a wok.
Add the zucchini spaghettis to the pan and cook for 5/6 minutes, stirring regularly. The cooking time depends on how you like your "pasta": al dente or well done…
The zucchinis will release water, so you might have to drain them, then continue cooking.
When the zucchini spaghettis are cooked to your taste, serve them with tomato sauce.
Note: if you have a large family, you will quickly get tired of using your "vegetable sharpener". But you can buy
other gadgets
which will make it easier.
You liked this post? If you decide to treat yourself with one of these gadgets, do not hesitate to use my affiliate links on this page: You will not pay more, and I will earn a few cents. It is good for my motivation 🙂  
Thank you in advance!
---
---