Sorbet citron et basilic – Lemon and basil sorbet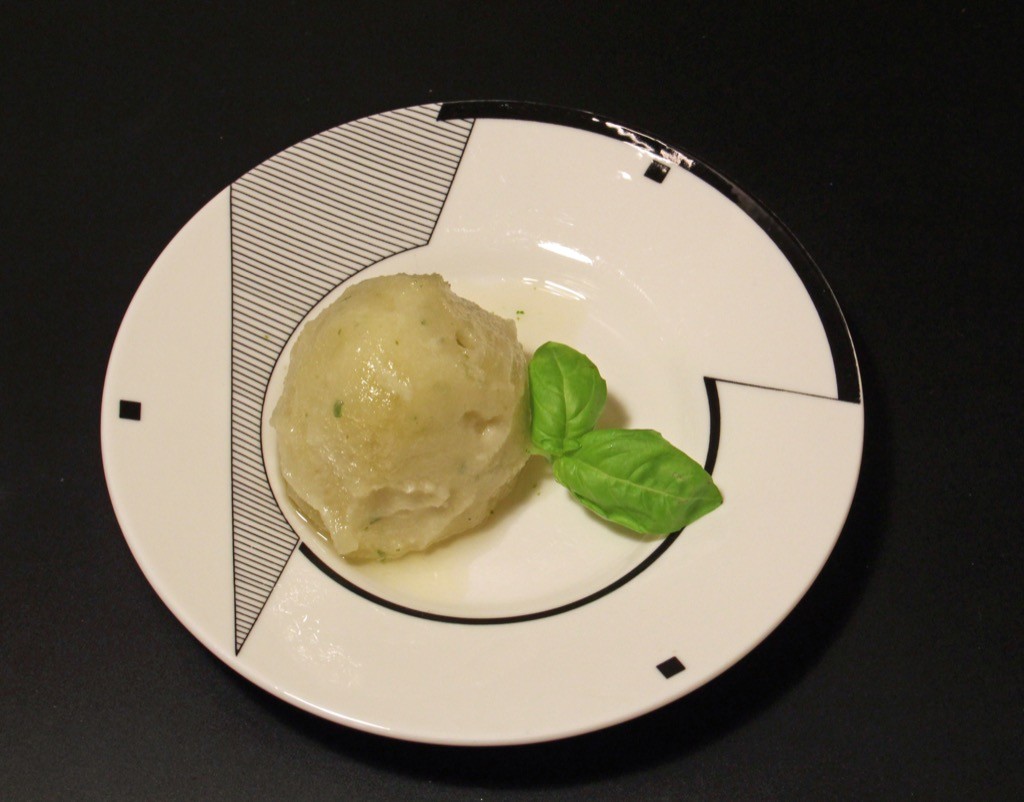 Scroll down for English
Mon jardin ne comporte hélas pas d'arbres fruitiers, "juste" des palmiers et autres plantes tropicales. Pourtant, Houston est le paradis des agrumes, et j'ai la chance d'avoir des voisins et amis généreux qui partagent leur abondante récoltes de citrons et pamplemousses.
Il y a quelques jours, je me suis donc lancée dans ma production annuelle de Limoncello (C'est Nathalie et Chanthy qui vont être contentes!). Le limoncello utilise seulement les écorces des citron, que faire du jus? L'inspiration m'est venue grâce à ma copine Stéphanie: les citrons viennent de son jardin, et j'ai très récemment dégusté un sorbet basilic délicieux chez elle. Ni une, ni deux: je décide de tenter le sorbet citron-basilic.
J'ai adapté à mon goût des recettes trouvées sur le Web, certaines me paraissant trop sucrées ou trop peu citronnées. Voici ma version:
MATERIEL:
Sorbetière, thermomètre
INGREDIENTS: pour 6-8 personnes
400ml d'eau
300g de sucre (j'ai utilisé du sucre roux, mais du sucre blanc donnerait une plus jolie couleur au sorbet!)
300ml de jus de citron fraîchement pressé
15 feuilles de basilic
METHODE:
Etape 1:  La veille:
Porter à ébullition l'eau avec le sucre. Maintenir l'ébullition jusqu'à ce que la température du sirop atteigne 105C. Hors du feu, ajouter 5 feuilles de basilic et laisser infuser ½ heure. Retirer les feuilles de basilic du sirop (elles ne sont plus belles et risquent de se décomposer).
Versez le sirop de sucre dans un blender, ajoutez le jus de citron, 5 nouvelles feuilles de basilic et mixez rapidement.
Mettez au frais.
Lorsque la préparation est bien froide, Vous pouvez passer en sorbetière.
Etape 2: 4-5 heures avant dégustation:
Ciselez très finement 5 feuilles de basilic, et saupoudrez les dans la sorbetière quand le sorbet commence à prendre (pour assurer leur répartition homogène). Continuez de turbiner jusqu'à ce que le sorbet soit suffisamment pris.
Note:  J'ai laissé ma sorbetière turbiner très longtemps, 45min environ. La consistance du sorbet après ce temps de turbine reste très molle (du style "neige fondue").
Mettez dans un bac au congélateur.
Après 3-4h au congélateur le sorbet avait une consistance agréable, il était temps de se régaler!
A savoir:  Les glaces et sorbets préparés de manière professionnelle comportent en général des additifs (sirop de glucose, glucose atomisé, trimoline, sucre inverti… et j'en passe!) qui améliorent leur onctuosité et les empêchent de durcir ou cristalliser. Un sorbet ou une glace maison sans additifs n'aura donc pas la même consistance.
Ainsi, après 24h au congélateur ce sorbet sera très (trop) dur. La solution consiste  à planifier le moment du turbinage et passage au congélateur pour que la consistance soit optimale au moment de la dégustation!
---
My backyard does unfortunately not include fruit trees, "just" palm trees and other tropical plants . Still, Houston is the paradise of citrus , and I 'm lucky to have neighbors and friends who generously share their abundant harvest of lemons and grapefruits.
A few days ago, I started my annual production of Limoncello (Nathalie and Chanthy will be happy to read that!). Limoncello only uses the lemon peels, what could I do with the juice of those lemons ? The inspiration came to me through my girlfriend Stephanie : those lemons actually come from her front yard, and I recently enjoyed a delicious basil sorbet that she made. So I decided to prepare a lemon- basil sorbet.
You will find similar recipes on the web, but I adapted the quantities of sugar and lemon to my own taste  (some recipes appearing to me too sweet or not lemony enough). Here is my version :
EQUIPMENT:
Ice Cream Maker, thermometer
INGREDIENTS: for 6-8 servings
400 ml of water
300g sugar (I used brown sugar, white sugar would give a prettier color to the sorbet!)
300ml freshly squeezed lemon juice
15 basil leaves
DIRECTIONS:
Step 1: The day before:
Bring water with sugar to a boil . Continue boiling until the syrup temperature reaches 105C/221F. Off the heat, add 5 basil leaves and infuse ½ hour. Remove the basil leaves from the syrup (they will be shriveled and likely to fall into pieces).
Pour the sugar syrup in a blender, add the lemon juice, 5 fresh basil leaves and mix quickly.
Chill. When mixture is cold, you can transfer to the ice cream maker.
Step 2: 4-5 hours before serving:
Chop finely 5 basil leaves and sprinkle them into the ice cream maker when the sorbet begins to thicken (to ensure even distribution). Continue to churn until the sorbet is sufficiently frozen.
Note: I left my ice cream machine churn for about 45min, and the sorbet was still very soft-looking (like "slush"!).
Transfer to a storage container, cover tightly and freeze until ready to serve. The sorbet will solidify in the freezer.
FYI: The ice cream and sorbets prepared professionally typically include additives (glucose syrup, powdered glucose, invert sugar … and so on!). Those additives are used to enhance creaminess and prevent hardening or crystallization. Home-made Sorbet or ice-cream  without additives will thus not have the same consistency.
For example,  after 24 hours in the freezer my basil-lemon sorbet will be (too) hard.
The solution is to time the preparation (churning + freezer time) so that the consistency is optimal at the time of tasting!
---
---