"Flanby" au sirop d'érable – vanilla pudding with maple syrup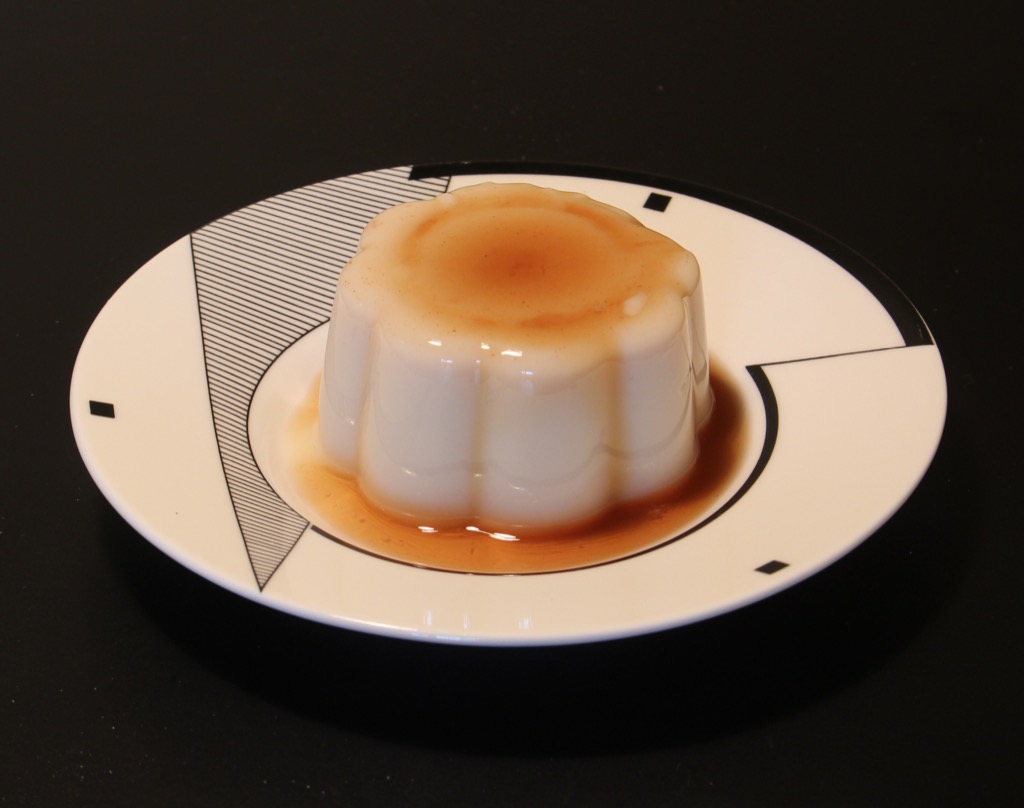 Ah… les bons Flanby français bien industriels… qui se démoulent dans l'assiette quand on retire la petite languette au fond du pot… souvenirs d'enfance… qu'on aime transmettre à nos enfants. Sauf qu'ici à Houston, on ne peut pas acheter de Flamby. Alors il faut se débrouiller et faire maison!
Ma recette n'est pas originale, on en trouve facilement de similaires sur le net. Mais ma petite touche perso, c'est l'agar-agar à la place de la gélatine (aujourd'hui, avec l'élevage industriel, je n'aime pas l'idée d'utiliser un produit venant de carcasses animales…)  et le sirop d'érable qui remplace le caramel  (plus simple que de préparer un caramel et tout aussi délicieux).
Ah, j'oubliais de vous dire: ça prend vraiment 5 min à préparer et les enfants adorent!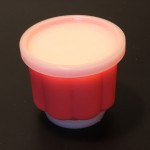 MATERIEL:
6 petits pots prévus pour permettre le démoulage (ou autres moules individuels)
Pour info, à Houston, j'ai trouvé les miens au rayon "Jello" de HEB.
INGREDIENTS: pour 6 "Flanby"
750 ml de lait
3 g d'agar-agar en poudre (soit 3/4 tsp)
4,5 CàS de sucre de canne blond
1 CàS (ou plus) d'extrait de vanille
du sirop d'érable, à rajouter après démoulage
METHODE:
Dans une casserole, diluez l'agar agar dans un peu de lait froid. Versez le reste du lait. Ajoutez le sucre, remuez pour le dissoudre.  Ajoutez l'extrait de vanille. Portez à ébullition pour 1-2 minutes, en remuant régulièrement
Répartissez la préparation dans les pots.
Laissez refroidir à température ambiante puis mettez au réfrigérateur.
Quelques heures plus tard… retournez sur une petite assiette, et démoulez! Arrosez d'une cuillère de sirop d'érable.
À la première petite cuillère savourée délicatement, vous rajeunissez de 30 ans! Mieux que le Botox! Et pour celles et ceux qui auront lu ce post jusqu'au bout, une petite récompense régressive: une bonne vieille pub Flanby! Merci qui? Merci Magali!
NB: j'ai essayé de mettre le sirop d'érable au fond du ramequin, pour faire comme les vrais Flanby mais il est quasi impossible d'éviter que ça se mélange, même en le plaçant au congélateur à l'avance pour le solidifier. 
---
This recipe is a copycat of an industrial jello-like vanilla pudding that kids enjoy in France, called "Flanby" (watch the old TV ad above!). I loved them when I was a kid, and my son loves them too. But you can't buy those puddings in Houston. So I decided to make them myself.
It is very easy to find recipes on the internet, but usually the recipes call for jelly, which is typically made from animal bone marrow. Not very tempting, in our times of industrial farming. So, I replaced jelly with agar-agar and also, to make this dessert even easier to prepare, I decided to use maple syrup instead of the traditional caramel that covers the pudding when you turn it on your plate (see video!).
Last but not least: the preparation time is less than 5 min and your children will love this dessert!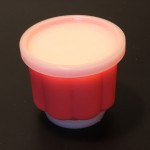 ACCESSORIES:
6 jelly-cups with lids, or other individual molds.
FYI, in Houston, I purchased mine from HEB, near the "Jello" products.
INGREDIENTS: for 6 puddings
750 ml ( 3 cups) of milk
3 g (= 3/4 tsp) of agar-agar powder
4,5 TbS cane sugar
1 TbS (or more) of vanilla extract
Maple syrup, to add on top of the pudding just before eating.
DIRECTIONS:
In a saucepan, dissolve the agar-agar powder in a bit of cold milk. Pour the rest of the milk. Dissolve the sugar in the milk, and finally add the vanilla extract to the milk. Bring to a boil for 1-2 minutes, stirring regularly.
Pour the preparation into small cups.
Cool down at room temperature then store in the refrigerator.
A few hours later, turn out on a dessert plate, drizzle the pudding with a tablespoon of maple syrup.
Enjoy!
Note:  I tried to add the maple syrup at the bottom of the cup before pouring the vanilla preparation on top, just like a real Flanby, but the syrup and preparation end up mixing, even if the maple syrup was placed in the freezer to solidify it.
---
---