Riz au lait de coco – Coconut Rice
Scroll down for English version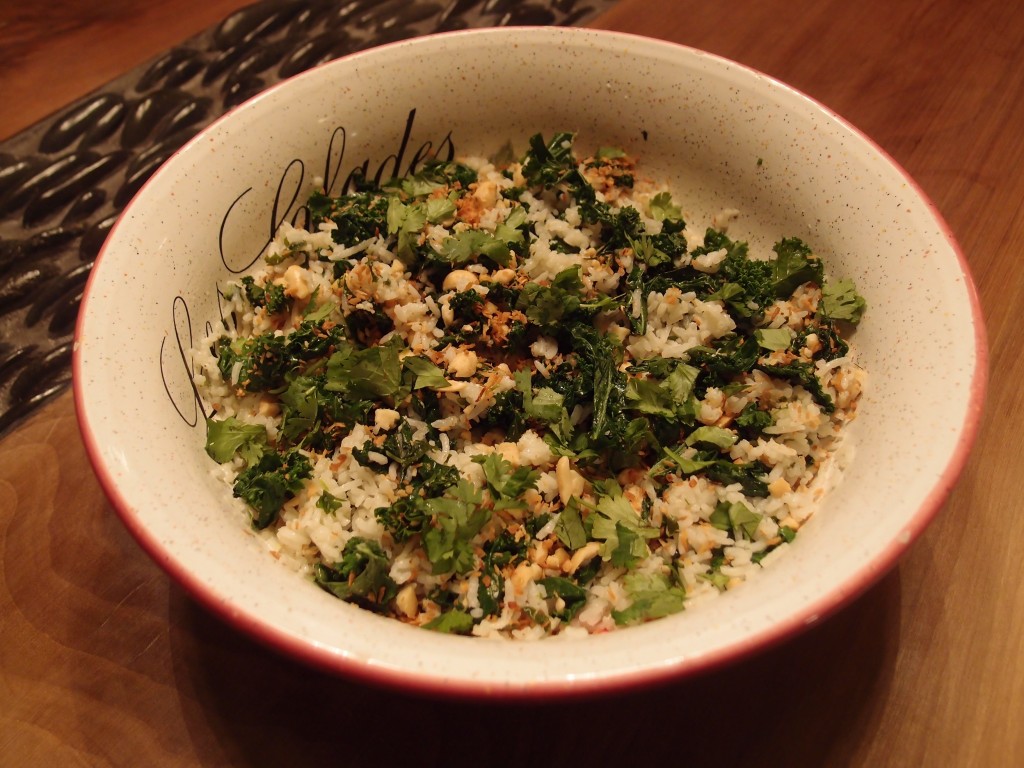 Une fois n'est pas coutume, ma recette ne provient pas d'un livre de cuisine-santé, ni de mes recherches sur Internet mais des pages publicité du journal de Costco ! Je sens votre front se plisser et l'inquiétude monter en vous, mais n'ayez pas peur, j'ai testé pour vous et c'est très bon.
Ce riz au doux parfum de noix de coco accompagnera parfaitement le halibut (Flétan) que nous avons pêché de nos petites mains lors de nos vacances en Alaska cet été !
NB: Petit aparté pour mes amis de France: Costco est un magasin de vente en gros, très apprécié de la communauté expat française car on y trouve des fromages importés à des prix défiant toute concurrence :+)
INGREDIENTS: (pour 4)
1 cup de riz basmati                                  NB: 1 Cup représente un volume de 250 ml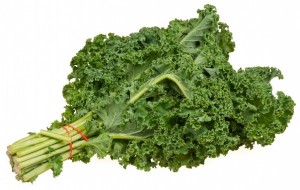 1 boîte de lait de coco
3 CàS d'huile d'olive
1 bouquet de coriandre fraîche (1/2 cup pour la cuisson du riz + garniture du plat)
2 citrons verts
sel et poivre du moulin
4 cups de chou frisé (à défaut de "kale", des épinards devraient faire l'affaire)
1/2 cup de noix de coco râpée
1/2 cup de cacahuètes grillées en petits morceaux
INSTRUCTIONS:
Dans un cuiseur à riz, (si vous en possédez un, sinon à la casserole !), mettez le riz, le lait de coco (1 cup 1/2 dans mon cas), 1,5 CàS d'huile et les feuilles de coriandre. Laissez cuire à couvert jusqu'à absorption du liquide.    NB: selon le riz et le matériel employé, il peut être nécessaire d'ajuster la quantité de liquide en ajoutant du lait de coco .
Quand le riz est cuit, ajoutez le jus d'un citron vert et aérez-le en le remuant à la fourchette.
Assaisonnez avec sel et poivre.
Faites chauffer à feu moyen 1,5 CàS d'huile dans une sauteuse, y ajouter le chou frisé et le faire cuire en le remuant, jusqu'à ce qu'il tombe.
Ajoutez le chou frisé au riz et mélangez.
Faites légèrement dorer la noix de coco râpée à la poêle.
Garnissez le riz avec la noix de coco râpée, les cacahuètes, de la coriandre fraîche et des quartiers de citron vert (je n'avais qu'un citron vert sous la main, alors ne cherchez pas ces quartiers sur la photo!).
—————————————————————————————————————————————————————————————————————————————–
This recipe doesn't come from a healthy living cookbook or from the internet as usual , but from an advertisement in the Costco magazine! Don't fear my friends, I took the challenge and tested the recipe for you. Actually, this dish was really good and the delicately coconut scented rice will be a perfect side dish for some grilled Alaskan Wild Halibut, that I fished with my own little hands this past summer!
INGREDIENTS: (4 servings)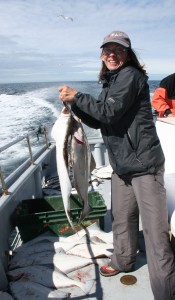 1 cup basmati Rice
1 14-ounce can coconut milk
2 Tbs olive oil, divided
1/2 cup cilantro leaves, plus more for garnish
2 limes, divided
Salt and freshly ground black pepper
4 cups chopped kale
1/2 cup shredded coconut
1/2 cup chopped roasted peanuts
DIRECTIONS:
In a rice cooker (if you have one, otherwise on the stove), combine rice, coconut milk (I used 1 1/2 cup of coconut milk), 1 tablespoon oil and cilantro. Let your rice cooker work it's magic!   Depending on your rice and rice cooker, it may be necessary to adjust the quantity of liquid by adding coconut milk or water.
To the cooked rice, add the juice from one lime and fluff with a fork. Season to taste with salt and pepper.
In a sauté pan, heat 1 Tbs oil over medium heat. Add Kale and cook, stirring until wilted.
Add the kale to the rice and toss.
Lightly toast the shredded coconut in a pan.
Garnish the rice with toasted coconut, peanuts, fresh cilantro and lime wedges (I didn't have extra lime, so I didn't).
---
---