Pains à Hamburger – Burger buns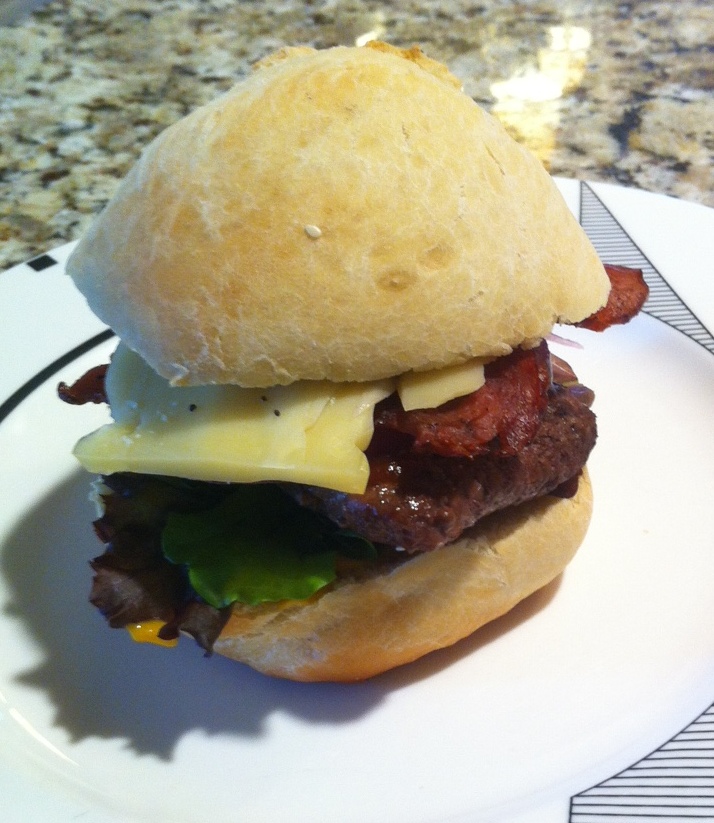 Dimanche, j'avais une maxi envie d'un bon burger. Il faut dire que ça faisait quelques jours que ça me démangeait…. Maintenant que la Conoco Rodeo Run est passée, que j'ai bien couru, j'ai mérité une petite récompense, non?
Voici la recette des petits pains que j'ai faits. A mon goût bien meilleurs que ceux du commerce, (qui sont trop mous et collent aux dents!)
Ingrédients pour 6 pains à burgers:
3 cups 1/2 de farine
1  1/4 càc de sel
1 càs de levure de boulanger lyophilisée
50g sucre
1 cup d'eau tiède
1 oeuf
40 ml d'une huile au goût neutre (j'ai pris de l'huile de tournesol)
éventuellement: des graines de sésame, pavot etc…
Méthode:
Mélanger les ingrédients secs (farine, sel, sucre, levure) dans le bol du Kitchen Aid.
Ajoutez l'eau à vitesse 1, puis l'huile et l'oeuf.
Pétrissez quelques minutes (4-5 min) à vitesse 1 puis 2 jusqu'à obtenir une belle boule de pâte.
Laissez lever la pâte à température ambiante jusqu'à ce qu'elle double de volume (en couvrant le bol d'un torchon humide), environ 2h.
Retravaillez la pâte à la main de façon à faire 6 boules de pâte de taille équivalente.
Les déposer sur une plaque de cuisson recouverte de papier cuisson, brosser la surface des pains avec de l'eau ou de l'huile et si vous le souhaitez mettre des graines.
Faire cuire à four préchauffé à 190 degrés C, pendant environ une vingtaine de minutes.
Et voilà !
Dans mon burger: un steak haché bio, du "bacon de dinde" (C'est meilleur pour le cholesterol de Laurent), cuits au BBQ, une tranche de tomate, de l'oignon rouge, de la salade verte, de l'emmenthal (ça c'est ma "French touch"), d'un côté du pain du ketchup et de l'autre de la Yellow Mustard (ça c'est l'authentique "American touch").
TROP BON!
—————————————————————————————————————————————–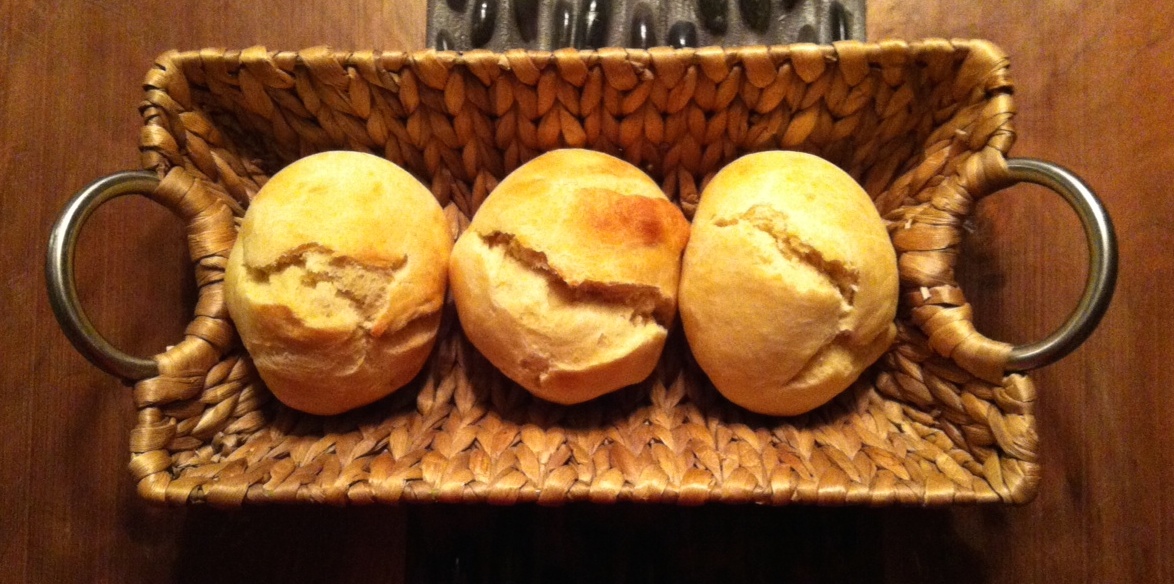 On Sunday, I was craving for a good old fashioned hamburger. Well, actually, I thad been thinking about it for a few days…But I was training for the Conoco Rodeo Run so I was sticking to healthier food… The race took place on Saturday, I was happy with my results, so I decided I deserved a treat.
Here is the recipe for the burgers buns that I baked. I think they are far better than store bought ones, which are too soft and stick to the teeth (well, that's my opinion…)
Ingredients for 6 buns:
3 cups 1/2 flour
1 tsp salt
2 tsp instant dry yeast
1 cup lukewarm water
1 egg
1/4 cup sugar
3 tbs vegetable oil (sunflower)
Optional: sesame seeds, poppy seeds, etc…
Method:
In a kitchen-aid, with the dough-hook, mix all dry ingredients (flour, salt, sugar, yeast), then add water at speed 1, oil, and the egg. Knead the dough at speed 1, then 2, for a few minutes (4-5 min). Shape the dough into a ball, place back in the bowl and cover with a wet tea towel. Let the dough rise in a warm place for 2h approximately, or until doubled in size.
Divide the dough in 6 equal portions, shape into round burger buns and place them on a cookie sheet covered with baking paper, brush the top of the buns with water or oil and sprinkle some seeds if you want to.
Bake in a preheated oven (380 F) for approximately 20 min.
Et voilà!
Inside my bun: organic ground meat, "Turkey bacon" (better than real bacon for Laurent's low-cholesterol diet) cooked on the BBQ, a slice of tomato, red onion, salad leaves, swiss cheese (my French twist), one side of the bun is covered with Ketchup and the other side with yellow mustard.
YUMMI!
---
---