A la manière d'un crumble – "Low-cholesterol" crumble topping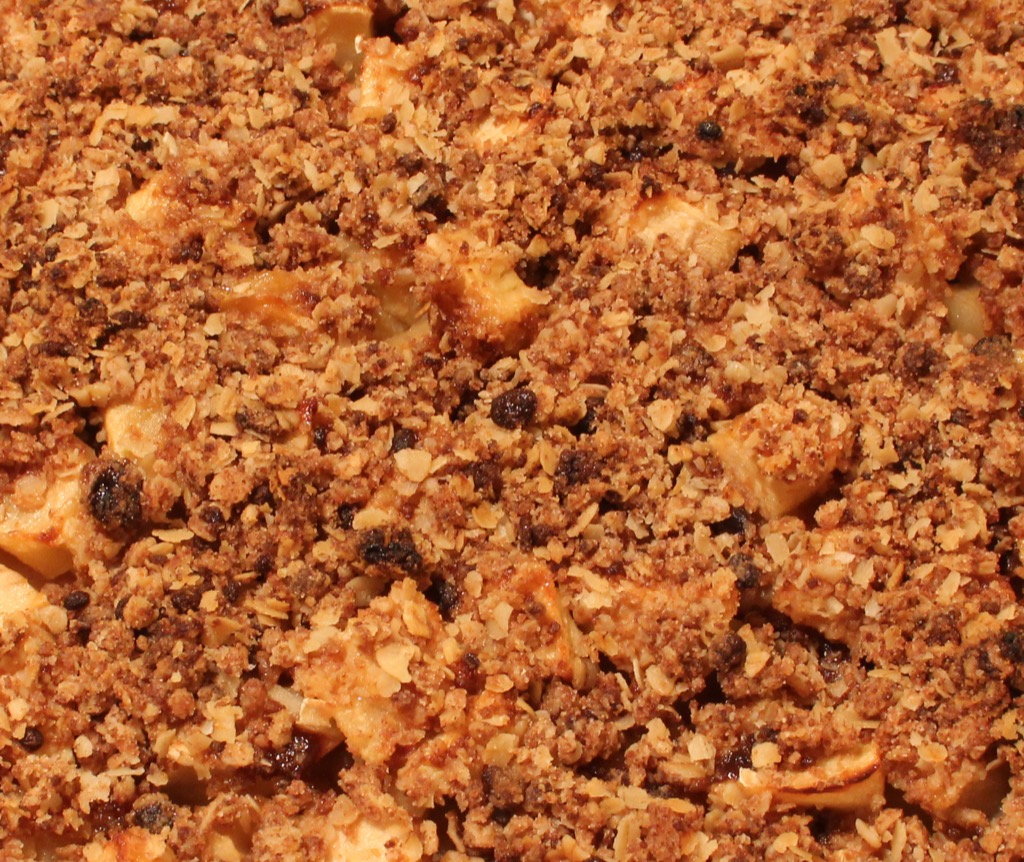 Scroll down for English
Voici une recette de pâte à crumble qui ne contient pas de beurre. Attention, je n'ai pas dit que cela vous éviterait les calories pour autant, puisque le beurre est ici remplacé par de l'huile végétale! C'est simplement une variante qui permet de limiter les apports en graisses animales. Je trouve aussi que le résultat parait plus léger en bouche.
Vous pouvez bien entendu utiliser ce "topping" sur des pommes coupées en dés, ce que j'ai fait hier soir, mais aussi avec d'autre fruits. La photo ci-dessous date de l'été dernier, j'avais fait un crumble avec des pêches de Georgie (et oui, je venais juste de découvrir que les pêches de cette région semblent "LA" référence en matière de bonnes pêches aux USA!) et c'était vraiment délicieux.
INGREDIENTS: (pour un plat carré 20X20cm – 4 personnes)
50g farine d'épeautre (ou de farine de blé)
40g de flocons d'avoine
25 g de sucre Muscovado (un cadeau qu'on m'a apporté de l'île Maurice!)
2 CàS de sucre de canne (optionnel)
1/4 càc sel
1/4 càc cannelle
1/4 càc poudre d'anis
40ml d'huile au goût neutre (huile de colza par exemple)
selon vos goûts, voici quelques autres épices que vous pouvez utiliser: gingembre, muscade …
Préchauffez votre four à 200C/400F.
Mélangez dans un bol les ingrédients secs à l'exception des 2 CàS de sucre de canne, puis ajoutez l'huile et mélangez grossièrement. Votre pâte à crumble est prête!
Huilez légèrement  votre plat, remplissez-le de fruits coupés en dés.
Si vos fruits sont peu sucrés, parsemez-les des 2 CàS de sucre de canne.
Recouvrez les fruits avec la pâte à crumble.
Enfournez pour 30 min environ.
Miam!
---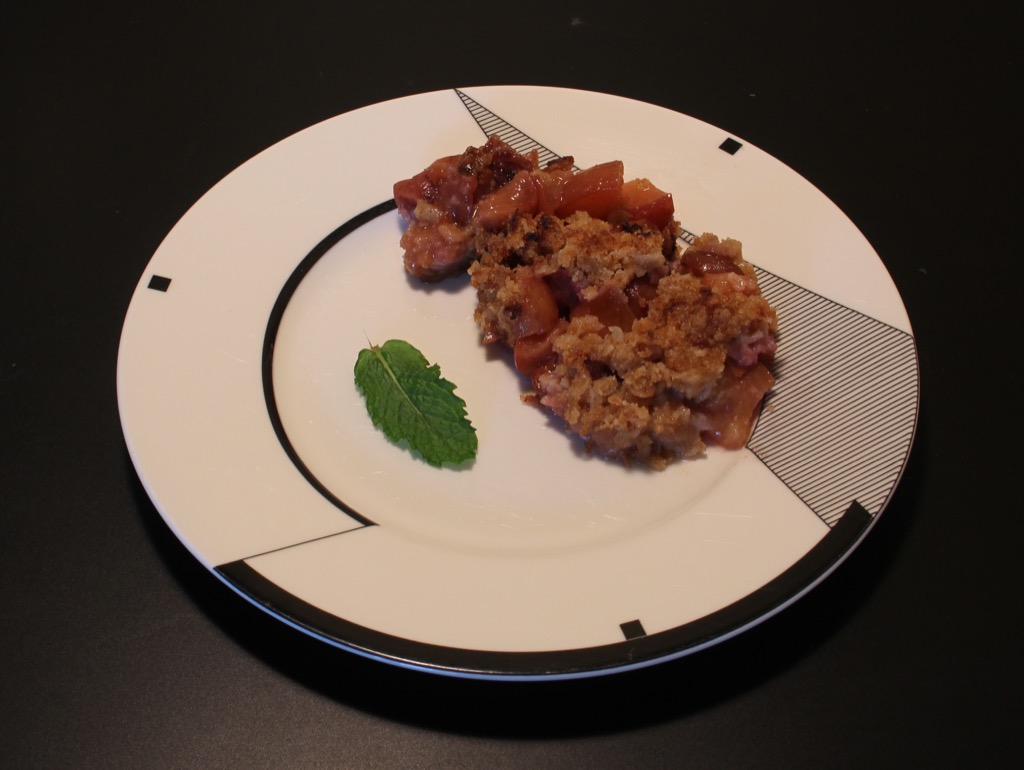 Here is a recipe for crumble topping that does not contain butter. Wait!  I did not say that it was "light" and would save you calories: the butter is replaced by vegetable oil,  this variation simply limits animal fat intake and should be a bit better for my cholesterol-conscious husband.
You can of course use this topping with apples, like I did yesterday for dinner, but also with other fruits. The photograph just above dates back from last summer , when I baked a crumble with Georgia peaches (I had just discovered that peaches from Georgia seem to be THE "reference" for quality peaches in the USA!) and it was really delicious.
INGREDIENTS: (for a 8″X 8″square dish – 4 servings)
1/3 cup + 1Tbs of spelt flour (or wheat flour)
1/3 cup + 1Tbs  of oatmeal
3 Tbs of Muscovado sugar (a gift brought from Mauritius!)
2 TbS of cane sugar (optional)
1/4 tsp salt
1/4 tsp cinnamon powder
1/4 tsp anise powder
1/8 cup + 1Tbs of oil with a neutral taste (canola oil for example)
other spices that you could use: ginger, nutmeg …
Preheat your oven to 200C / 400F.
Mix the dry ingredients in a bowl with the exception of 2 tablespoons of cane sugar, then add the oil and mix roughly. Your crumble dough is ready!
Lightly oil your dish, fill it with diced fruits. If your fruits are not very sweet, sprinkle them with 2 Tbs of cane sugar. Spread the crumble dough on top of the fruits.
Bake for about 30 minutes.
Yum!
---
---