Soupe de melon froide aux épices – Chilled and spiced melon soup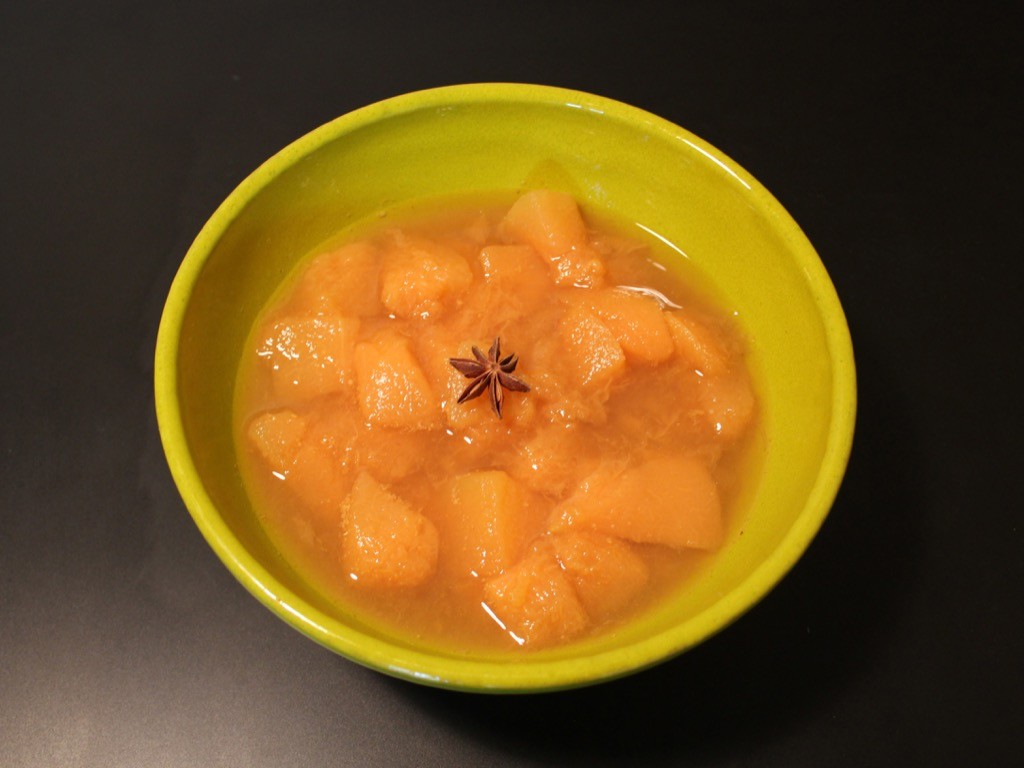 Please scroll down for English version
J'adore le melon. Ici au Texas on en trouve de toutes sortes, le problème c'est que je ne sais pas comment choisir un melon mûr parmi ces variétés qui sont pour moi quasi-exotiques (Honeydew, Cantaloupe… à Houston, pas de Melons Charentais!).
Et quand un melon n'est pas bien mûr, ce n'est vraiment pas terrible. Heureusement, j'ai ma petite recette miracle, pour "recycler" un melon pas très bon: la soupe de melon froide aux épices. Bien entendu, vous pouvez aussi faire ce dessert avec un melon goûteux, ce sera encore meilleur.
Préparation 5min – Cuisson 10-15 min – Réserver au froid
INGREDIENTS (pour 4):
– 1 melon (j'ai testé la recette avec des Cantaloupes et aussi des Charentais)

– jus d'1 citron
– 100g de sucre en poudre (pour cette recette, j'aime bien utiliser du sucre de canne brun, ou autre sucre parfumé)
– 1 bâton de cannelle
– 1 anis étoilé
– 2 clous de girofle
INSTRUCTIONS:
Coupez la chair du melon en petits cubes.
Disposez les cubes de melon dans une casserole, ajoutez le jus de citron, le sucre, les épices et faites cuire à feu doux 10 à 15 min, en remuant de temps en temps. Essayez de ne pas trop écraser les cubes de melon.
Retirez du feu, ôtez le bâton de cannelle, l'anis étoilé et les clous de girofle. Disposez les cubes de melon dans un saladier ou des coupes individuelles. Arrosez avec le jus de cuisson.
Laissez refroidir puis recouvrez de film plastique et réservez au frais jusqu'au moment de servir.
---
I love eating melon. Here in Texas, we can buy many varieties. The only problem is that I do not know how to choose a ripe melon among these varieties, which are for me a bit "exotic" (Honeydew, Cantaloupe …, no French "Melons Charentais" ).
And when a melon is not ripe, the taste can be really bland. Fortunately, I know a miracle solution if you want "to recycle" a not-so-good melon: a chilled and spiced melon soup. Naturally, you can also make this dessert with a flavourful melon, it will be even better.
Preparation 5min – Cooking 10-15 min – Reserve in the fridge
INGREDIENTS (4 servings):
– 1 melon (I tested the recipe with Cantaloupes and also "Melon Charentais")
– juice of 1 lemon
– 100g of caster sugar (for this recipe, I like to use some brown cane sugar, or dark brown sugar)
– 1 stick of cinnamon
– 1 star anise
– 2 cloves
DIRECTIONS:
Detail the flesh of the melon in small cubes.
Arrange the cubes of melon in a pan, add the lemon juice, the sugar, the spices and cook over low heat 10 – 15 min, stirring gently from time to time. Try not to crush the cubes of melon.
Take away from the stove, remove the stick of cinnamon, the star anise and cloves. Arrange the cubes of melon in a serving bowl or individual cups. Pour the spiced cooking juice over the melon cubes.
Let the soup cool down, then cover it with plastic film and reserve in the fridge until serving.
---
---