Pain d'épices – French gingerbread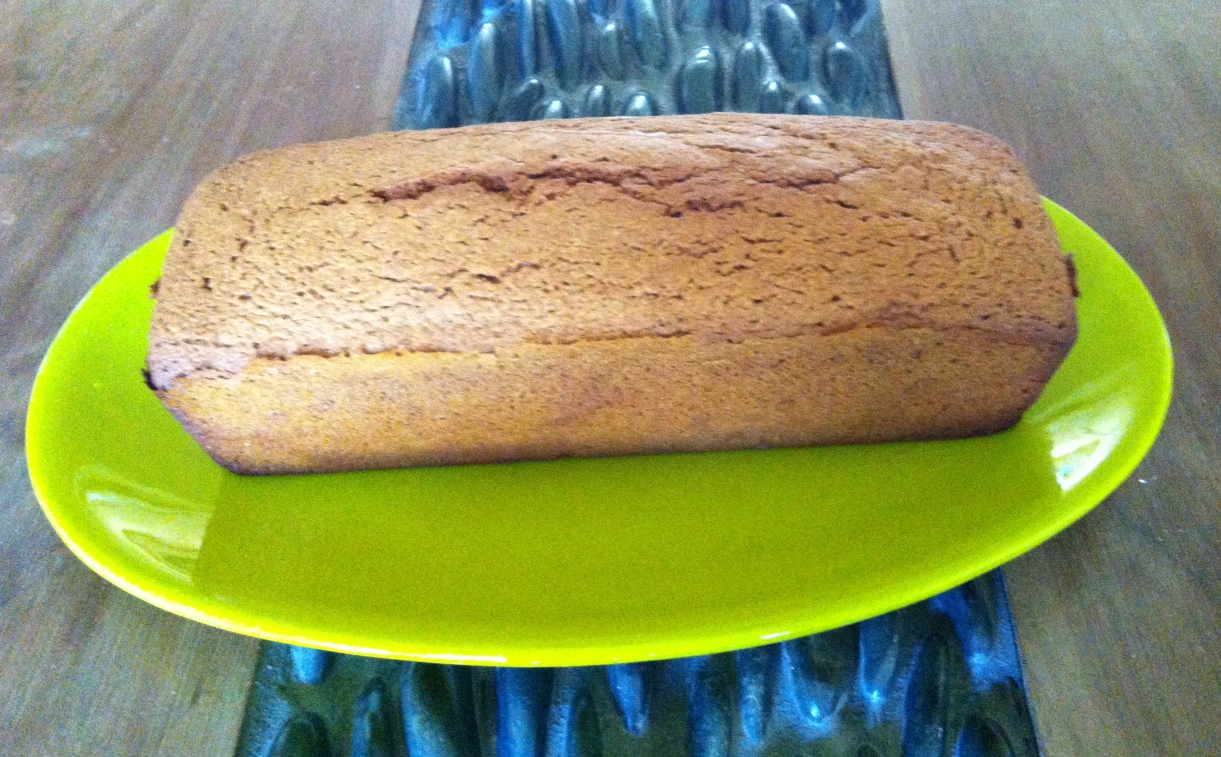 Rien de tel qu'un bon pain d'épices pour le petit déjeuner! Et oui, j'ai été Dijonnaise dans ma jeunesse… Que ne donnerais-je pas pour une tranche de pain d'Epices ou des Nonnettes "Mulot et Petitjean, maison fondée en 1796". (Voici le lien sur leur site, pour se lécher les babines  http://www.mulotpetitjean.fr)
La recette ci-après n'est pas typiquement Dijonnaise, j'utilise de la farine de seigle, alors qu'à Dijon on utilise de la farine de froment.
Ce pain d'épices est très moelleux bien qu'il n'y ait ni oeuf, ni matière grasse (c'est une recette que j'ai trouvée pour que Laurent puisse en manger sans remords).
Ingrédients:
250 g de farine de seigle
250g de miel liquide
200ml de lait
1 sachet de levure chimique (ou 2 càcafé de Baking Powder)
1/4 cuiller à café de bicarbonate
1 pincée de sel
1/4 càcafé de cannelle
1 càcafé d'anis en poudre
1/2 càcafé de muscade
un peu de poudre de gingembre
Facultatif: 2 cuillers à soupe de zestes d'orange ou de citron confits, ou de la confiture d'orange avec zestes
Note: les épices utilisés et leurs quantités dépendent de vos goûts. J'aime varier les proportions, ajouter ou non les zestes d'orange ou de la confiture d'orange, pour varier les plaisirs.
Méthode:
1. Mélangez le miel + le lait tiède
2. Ajoutez la farine de seigle tamisée (au Kitchen Aid, je ne tamise pas!)
3. Couvrez et laissez reposer 2h au frigo
4. Préchauffez le four à 165C (330F).
5. Ajoutez tous les ingrédients à la pâte
6. Versez dans un moule à cake, recouvrir de papier sulfurisé et enfourner 45min à 1h
7. Sortez le pain d'épices du four. laissez-le refroidir.
8. Tapotez et secouer le moule, démoulez.
Vous pouvez le déguster nature, ou tartiné de beurre (là, évidemment, ça devient moins "low-cholesterol, mais c'est tellement bon!) , ou encore comme Célian avec de la confiture. Il se conserve plusieurs jours et reste bien moelleux si vous l'enveloppez de papier d'aluminium.
————————————————————————————————————————————————
Gingerbread is not an exact translation for "Pain d'Epices". There is actually very little ginger, and a lot of other spices and tastes in this bread…
I love to have a slice with my coffee in the morning. It reminds me when I was a student in Dijon. When she came to Dijon and visited me, my mom would sometimes treat me with some "Pain d'épices" purchased from "Mulot et Petitjean". They have been manufacturing and selling Pain d'Epices since 1796! http://www.mulotpetitjean.fr
My recipe is different from theirs. I use rye flour instead of wheat.
Anyway, the bread is excellent, very moist, even if there is no eggs nor shortenings in my recipe.
I guess it is as healthy as Pain d'Epices can get!
Ingredients:
250g rye flour
250g honey
200ml milk
1 tsp baking powder
1/4 tsp baking soda
1 pinch of salt
1/8 tsp cinnamon
1/2 tsp anise
1/4 tsp nutmeg
a pinch of ginger
optional: 2 tbs candied orange or lemon peels, or 2 tbs of orange marmelade
Note: Feel free to modify the choice of spices and their quantities depending on your taste. I like to slightly modify the spices every time I bake this pain d'épices. Also, sometimes I add the orange peels, or the marmelade, and sometimes I don't.
Method:
1. Mix honey with warm milk.
2. Add rye flour (ideally sifted, but I don't bother because I use a Kitchen Aid)
3. Cover and let it rest in the fridge for 2 hours.
4. Preheat your oven at 165C (330F).
5. Add all the remaining ingredients to the dough.
6. Pour the dough in a loaf pan, cover with parchment paper and bake for 45 min to 1 hour.
7. Get the pain d'épices out of the oven, let it cool down.
8. Tap and shake the pan, turn out the bread on a serving plate.
You can enjoy this Pain d'Epices as it is, or spread with butter or like Célian with jam. It will keep for a few days at ambient temperature if you wrap it tightly in aluminum foil.
---
---