Lasagnes légères – Healthier lasagnas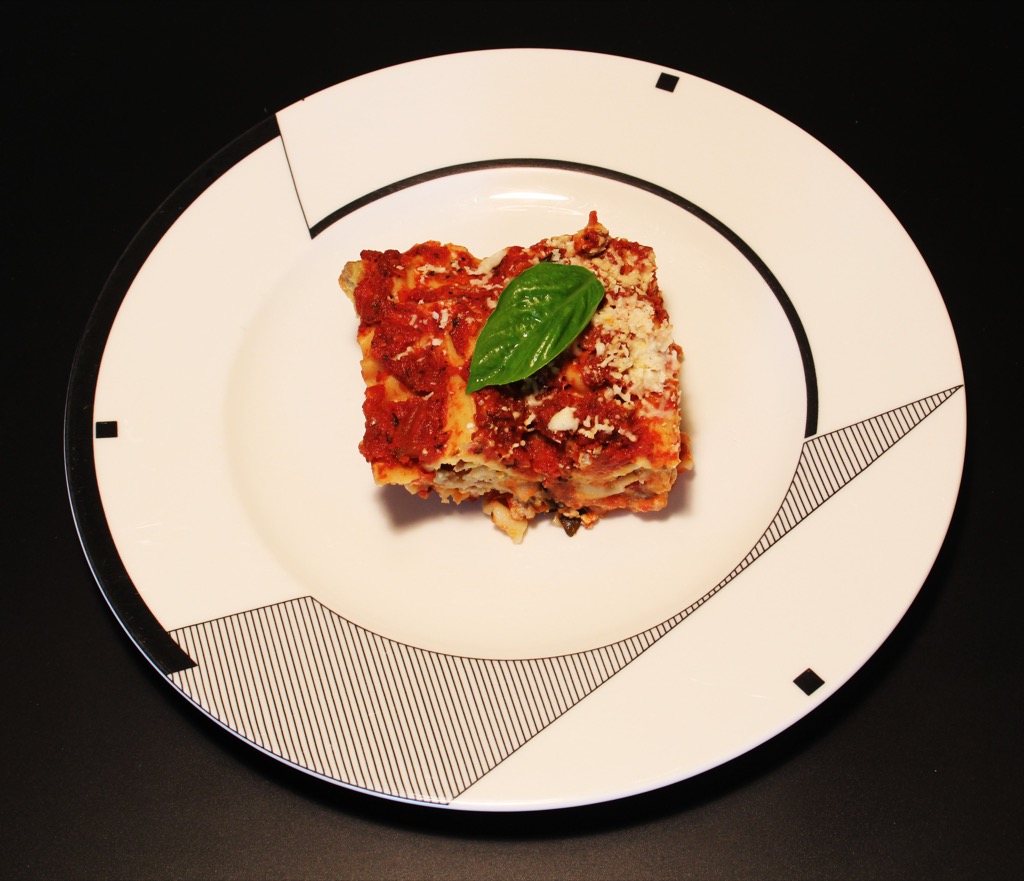 Scroll down for English
Quoi de mieux qu'un plat de lasagnes pour faire plaisir à toute la famille? Longtemps, j'ai préparé mes lasagnes en alternant des pâtes, une sauce tomate maison, et une béchamel  dans laquelle j'ajoutai un mélange de boeuf haché et de chair à saucisse. Super bon, mais la béchamel et la chair à saucisse ne sont pas recommandés quand on surveille son cholestérol. Alors, petit à petit, j'ai inventé une nouvelle façon de préparer mes lasagnes. Amis Italien, passez votre chemin… vous risquez de crier au sacrilège… et pourtant, cette recette "santé", qui de plus a le mérite d'incorporer des légumes,  plait beaucoup à toute la famille! Buon appetito !
INGREDIENTS: pour un plat carré de 20/25cm – 6 parts
Recette légère / Recette traditionnelle
1/2 paquet de pâtes à lasagnes précuites
400g de chair de dinde hachée / 250g de viande de boeuf hachée et 150g de chair à saucisse
1 boîte de tomates en dés
1 bouteille de purée de tomates (passata)
2 courgettes jaunes (ou un patisson) + environ 50cl lait + muscade + kiri (facultatif) / 75cl de béchamel
1 oignon
1 carotte
1 branche de céleri
huile d'olive
sel, poivre
basilic
40g de parmesan râpé / 1 boule de mozzarella
METHODE:
Les 3 étapes de la préparation se font en parallèle: pendant que la sauce tomate mijote, on prépare la sauce blanche (ou la béchamel) et on fait cuire la viande.
Sauce tomate: 1h de mijotage, si possible
Hachez finement (je fais cela au robot) l'oignon, la carotte et la branche de céleri. Conservez les feuilles de céleri pour plus tard.
Dans une cocotte, versez un peu d'huile d'olive et ajoutez la moitié du hachis ci-dessus, puis la passata et les tomates en dés. Ajoutez deux branches de basilic entières et des feuilles de céleri (Retirez ce bouquet en fin de cuisson). Si possible, faites mijoter cette sauce tomate environ 1h à feu doux, en rajoutant si nécessaire un peu d'eau. Salez, poivrez.
Sauce blanche aux courgettes

(ou béchamel)

: 20 min de cuisson 
Détaillez les courgettes jaunes (ou la chair du pâtisson) en rondelles ou en dés. Mettez les morceaux dans une casserole et recouvrez-les de lait (environ 50cl de lait). Les légumes doivent affleurer.
Faites cuire à feu doux pendant une vingtaine de minutes. La cuisson est terminée quand les courgettes peuvent être facilement écrasés. Réservez une partie du lait de cuisson. Réduisez le mélange courgettes/lait en purée avec un mixeur plongeant ou dans un blender (vous pouvez éventuellement ajouter un kiri). Le but est d'obtenir une sauce ayant la consistance d'une béchamel: à vous de rajouter le lait de cuisson réservé, si nécessaire. Assaisonnez de sel, poivre, muscade.
Viande: une dizaine de minutes de cuisson
Dans un grand récipient, versez un peu d'huile, le reste de hachis (oignons+carottes+céleri) et la dinde hachée.

(ou la chair à saucisse puis 5 min plus tard la viande de boeuf)

. Arrêtez la cuisson lorsque le mélange est bien coloré et ajouter la viande à la sauce blanche ou à la béchamel.
Assemblage:
Dans un plat allant au four, alternez une couche de pâtes, une couche de sauce tomate, une couche de sauce blanche (ou béchamel) à la viande. Ajoutez des feuilles de basilic entre chaque couche. Répétez l'opération une deuxième fois, puis terminez par une couche de pâtes recouverte de sauce tomate.
Faites cuire à four moyen (180C/360F) pendant 35min. Parsemez d'un peu de parmesan râpé (ou de mozzarella détaillée en petits morceaux) 5 min avant la fin de cuisson.
---
What could be better than lasagnas to please all the family? For a long time, I prepared my lasagnas by alternating pastas, home made tomato sauce, and a béchamel sauce mixed with ground beef and sausage meat. Excellent, but the béchamel and the sausage meat are not recommended for someone who watches his cholesterol intake. So,  I moved to a new way of preparing my lasagnas. Italian friends, you might think this recipe is insane ! Nevertheless, my family loves these healthier lasagnas who have the merit to use way more vegetables than traditional recipes. Buon appetito !
INGREDIENTS: for a 10″ square dish – 6 servings
Low cholesterol recipe / traditional recipe
1/2 pack of pre-boiled lasagna pasta
1lb ground turkey / 1lb ground beef and pork sausage meat (2/3 beef, 1/3 sausage)
1 can diced tomatoes
1 bottle of passata (Italian uncooked tomato puree)
2 yellow zucchinis  + 2 cups milk + grated nutmeg + 1/2 oz cream cheese (optional)  / 3 cups béchamel
1/2 Texas size onion
1 carrot
1 celeri stalk
olive oil
salt, pepper
basil
1-2 oz grated parmesan cheese / 1 mozzarella ball 
DIRECTIONS:
The 3 steps of the preparation are made simultaneously:  while the tomato sauce simmers, you will prepare the white sauce (or the béchamel)  and cook the meat.
Tomato sauce: 1 hour of simmering, if possible




Chop finely (use a food processor) the onion, the carrot and the branch of celery. Set aside the celery leaves for later.




In a pot, pour a bit of olive oil and add half of the chopped vegetables, then the passata and diced tomatoes. Add two whole branches of basil and celery leaves (You will remove this bouquet at the end of the simmering time). If possible, let this tomato sauce simmer for approximately 1 hour over a low heat,  adding if need be a little water. Season with salt and pepper.

Zucchini sauce

 (or béchamel)

: cooking time 20 min


Dice or slice the yellow zucchinis. Put the pieces in a pan and cover them with milk (approximately 2 cups of milk). 




Cook over a low heat during about twenty minutes. Remove from the stove when the zucchinis can be easily crushed. Put aside half of the cooking milk. Reduce the mixture of zucchinis and milk to a purée with a plunging mixer or  a blender (if you want, you can add some cream cheese). You want to obtain a sauce having the consistency of a béchamel: add some of the reserved milk to achieve the correct thickness. Season with salt, pepper, nutmeg.

Meat: cooking time app. 10min


In a large saucepan, pour a bit of olive oil, the rest of the chopped vegetables ( onions+carrots+celery ) and the ground turkey

(or the sausage meat, and 5 min later the ground beef)

. Remove from the stove when the mixture is colored. Add the meat to the zucchini sauce

(or to the béchamel)

.
Assembly:
In an oven-proof dish, alternate a layer of pasta, a layer of tomato sauce, a layer of the zucchini sauce (or béchamel) with meat. Add basil leaves between every layer. Repeat the process a second time, then end with a layer of pasta covered with tomato sauce.
Cook in a moderate oven ( 180C / 360F ) during 35min. Sprinkle the grated Parmesan cheese (or the  mozzarella detailed in small pieces) 5 min before the end of cooking.
---
---