Faire son beurre maison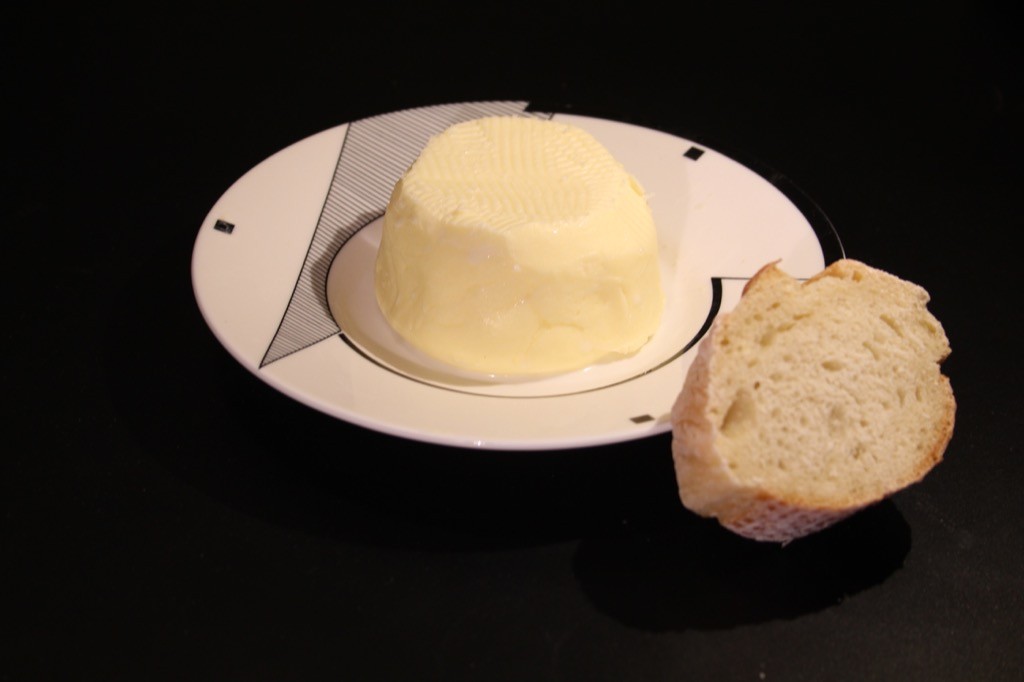 Scroll down for English version 
Parfois, il faut oublier les bons conseils santé et se faire plaisir. Aujourd'hui j'inaugure la rubrique "On se lâche !" avec une vidéo qui vous montre comment faire du beurre. Une activité très sympa pour occuper les enfants. C'est facile et ça défoule !
Comme nous sommes une famille de curieux, nous avons décidé de faire une expérience et d'essayer aussi de faire du beurre à partir de 3 ingrédients:
– de la "Heavy whipping cream" (l'équivalent américain de la crème fleurette)
– du "Half & Half" (un mélange de crème et de lait)
– du lait entier
C'est là qu'on réalise que la crème entière contient beaucoup, BEAUCOUP, de matière grasse!
En conclusion, beurre et crème … à consommer avec modération… mais fait maison c'est tellement bon!
INGREDIENTS: Pour une petite motte de beurre
crème liquide ("Heavy whipping cream")
un récipient style "pot à confiture"
INSTRUCTIONS:
En vidéo :
Verser la crème dans le pot, jusqu'à mi-hauteur.
Bien visser le couvercle, et secouer, secouer, secouer…
Après quelques minutes, la crème se transforme en crème fouettée. A ce stade, il devient difficile de la faire bouger dans le pot, mais vous devez persévérer et y mettre toute votre énergie.
Si vous continuez à agiter le pot, vous allez alors remarquer que la partie solide et la partie liquide vont commencer à se séparer.
Continuez de secouer. Après environ une dizaine de minute, vous obtiendrez une motte de beurre baignant dans du babeurre (ou lait ribot pour les Bretons, ou "buttermilk" en anglais).
Il vous reste à sortir le beurre, le presser un peu, l'égoutter.
A ce stade vous pouvez le saler si vous le souhaitez.
A déguster en tartine sur une baguette de pain frais! Cliquez ici pour la recette des baguettes faciles préparées en 5min : http://fairedupain.fr .
—————————————————————————————————————–
Sometimes, you just have to forget about being sensible and simply enjoy good food! This is why I start today a new category of posts : "Danger Zone!". The first recipe of the "Danger zone" will explain how to make butter.  Making home-made butter is a great activity to keep children busy. It's easy and they can use their extra energy!
As we are a curious family, we decided to do an experiment and try to make butter from three ingredients:
– "Heavy whipping cream"
– "Half & Half"
– Whole milk
The video is only available in French so far, but I guess it will still be fun for you to look at it! And you will find the recipe translated in English hereunder.
As you might have guessed, heavy whipping cream works best, and this experiment made us realize that it does contain a lot, I mean A LOT, of fat!
In conclusion, butter and cream … in moderation … but homemade is so good!
INGREDIENTS: For a small stick of butter
Heavy whipping cream
Mason jar-style container with tight lid
DIRECTIONS:
Pour the cream into the jar, halfway up.
Screw the lid tightly, and shake, shake, shake …
After a few minutes, the cream turns into whipped cream. At this stage, it becomes difficult to have it move in the jar, but you have to keep shaking with all your strength.
If you continue to shake the jar, you will notice that the solid part and the liquid part will begin to separate.
Keep shaking! After about ten minutes, you'll get a block of butter soaking in buttermilk.
Get the butter out of the jar, squeeze it a little, drain it.
At this point, feel free to add salt if desired.
Spread your home-made butter on a fresh baguette bread! Click here for the recipe to make French baguettes in 5 minutes: http://fairedupain.fr
---
---